Press
Release
Important Information Regarding Inaccurate Press Release About Spinning Star Energy LLC's ("SSE") Land Leases
17th Jan 2013
SSE is issuing this press release to address misrepresentations contained in a press release issued by a certain Warren Houser on Jan 17th 2013 entitled "Texas Landowners Seeking Developer For One Of The Largest Wind Energy Projects In The U.S.", http://www.nawindpower.com/e107_plugins/content/content.php?content.10984 (hereinafter, the "Houser Press Release"). Click here for more...
Company
Info
Spinning Star Energy is an innovative company focused on providing energy transmission services.
We are committed to locating our projects while providing land owners with fair compensation. Our priority is restoring the landscape to its original condition after construction is complete.
Energy Transmission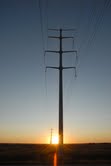 Electric transmission and distribution lines are developed for the purpose of transmitting electricity. These electricity developing processes can be performed at remote sites and require the delivery of electricity to the necessary areas for utilization.
The current status of today's transmission lines is antiquated at best. Billions of dollars are lost to wasted energy and power outages. Revamping the transmission infrastructure will not only improve power delivery but also will increase access to renewable resources. A modern grid will solve numerous environmental and renewable energy challenges while improving overall reliability and lower the associated costs to the economy.
By using advanced transmission technologies we can significantly reduce congestion, increase efficiency and improve reliability in the Nations energy supply chain. Spinning Star Energy LLC strives to act as a firm supporter for the development of the modern grid.
According to the US Department of Energy, power outages and quality disturbances cost the economy $25 Billion to $180 Billion each year.
Smart Wind Ranch™
Spinning Star is developing a 615 MW Spinning Star Energy Smart Wind Ranch™ in West Texas (the "Project" or "Smart Wind Ranch™"). The Project will consist of 300 wind turbines, rated at 2.05 MW, and three new transmission line segments totaling 355 miles to interconnect the Project to the Texas, Eastern and Western Interconnects.
The Smart Wind Ranch™ will be the world's most advanced wind energy technology project, as well as the second largest wind energy project in the U.S. The Project will integrate innovative higher productivity wind turbine technology, a state-of-the-art electrical design capability and an energy storage system to flow renewable electricity to the highest priced grid / market on a real-time basis.
On August 5, 2010, SPG, US-REG and A-Power entered into a landmark agreement with the United Steelworkers Union. Under this agreement, SPG and A-Power will source at least 50,000 tons of steel from unionized U.S. steel facilities for the Smart Wind Ranch™. In addition, A-Power and SPG will work with the USW to develop and implement an immediate and long-term strategy to develop U.S. manufacturing facilities and strong domestic supply chains for the highly advanced A-Power wind turbines. The USW will help ensure that the Smart Wind Ranch™ will benefit from timely and competitively priced U.S. steel products.